The facilities at the hospital for patients include:
FRONT OFFICE
The Front Office department of Prince Aly Khan Hospital serves as a vital link and interface between our patients and the hospital services. The main responsibilities of this service area include, ensuring proper and complete information by the receptionist on duty at the main counter and explaining the admission procedure and choices available to the patient for getting admission to the hospital.
In addition, the telephone operating function also forms an essential part of this department. The telephone operators serve as a means for external and internal communication for both patients and the hospital staff. In essence, the Front Office service provides a platform for the exchange of information and communication.
PATIENT & MATERNITY WARD ACCOMMODATION
Single Occupancy :

An air-conditioned private room with a couch for an attendant. A telephone, Refrigerator and TV set are provided.

Twin Sharing :

Two beds to a room, with an intervening partition, and a couch for an attendant. Each set of two beds shares a bath cum toilet. No air-conditioning is provided.

Economy :

A four bedded ward, sitting arrangement for an attendant. The bath and toilet complex is common per floor. No air-conditioning is provided.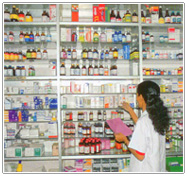 PHARMACY
The well-stocked in-house pharmacy meets the needs of resident and out-patients, providing medicines at listed rates. Through its highly trained and dedicated staff, the pharmacy strives to provide excellent drug information, dispensing, utilization and management services. All drugs are provided at MRP rates. In the interest of patient's medical needs, the hospital insists that all prescribed drugs are supplied by the pharmacy.
Timings : Weekdays (0800-2100), Sundays and Holidays : (0900-1700)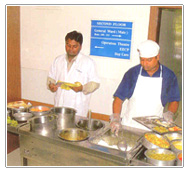 DIETARY SERVICES
Managed by staff qualified in catering and nutrition, the hospital has its own Dietary Service, which provides regular as well as specific therapeutic diets tailored to suit the needs of patients suffering from various disorders. We also have arrangements with reputed community kitchens for the supply of pure vegetarian and Jain meals.
Patients are advised to eat only that food which is served by the Food and Nutrition Services department. Meals are prepared based on the diet recommended by the treating consultant.
Patients can ring the Nutrition Services Hotline at 2377 7938 to report any food allergies, eating difficulties or any other food concerns. If necessary, the attending physician will request Nutrition Education services from the registered dietician.
The hospital kitchen also offers meals for attendants, at an additional charge. Patients can place their request through the ward nurse.
PRIVATE NURSE CARE
Patients are provided with private nursing care based on their needs. Patients with requests for this service may contact the sister-in-charge. This service is available at an additional charge. The Hospital does not encourage patients to engage this service unless special needs make it absolutely essential.
VISITORS PASSES
Visiting hours at the hospital are :
Ward : 4.00 - 7.00 PM
ICU : 4.00 - 6.00 PM
Visitors can request for additional passes as follows :
Deluxe Class : 2 passes
Economy Class: 1 pass
Children below 12 years of age are not allowed as visitors. An exception is made for siblings of newborns.